Gazelle 22 - a new image recognizer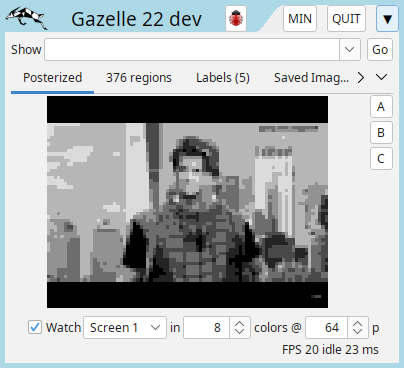 Quick start (Windows, Mac, Linux)
1. Install Temurin 17 (their smaller "JRE" version is fine too).
2. Save and double-click Gazelle-dev.jar (size: less than 10 MB).
What it does
Gazelle 22 watches your screen and recognizes things.
It is being developed right now by Stefan Reich at Gaz.AI. Contact. Discord.
Source: stable / development. Releases also on GitHub.
Privacy statement
Gazelle 22 runs locally on your machine. It does not upload any data to any server. Server connections are made only for downloading program parts and checking for updates. All code is open source.
News
News post [2022/1/22]
News post [2022/1/7]
Image recognizers should return mathematical proofs [2021/9/10]
Gazelle looks at its own logo and paints it red [2021/8/20]